"To Machine the work of the Machine, to Man the Thrill of Further Creation"
In this era of globalization and rapid change in technology, Intech is reaffirming its dedication to our customers by offering innovative products and services. We stand by our commitment of 'Appropriate Automation' by providing our customers the Right Solutions and Products for the given Application at the Right Price.
A Team You Can Rely On
"To meet customer demand, 'what they want, when they want it'"
Intech has established a vast sales and support network with a closely linked service system covering our operating regions of Tamil Nadu, Kerala, Karnataka, Andhra Pradesh and Telengana. Intech provides fast and efficient support to its customers through its comprehensive support system, from solution to product distribution and maintenance.
Over 35 years ago Intech started as an one-man company to meet the needs of the region's rapidly expanding industrial markets. Operations that initially marketed products for IPA (Weighing) and Technomech (Actuators) has expanded to represent the company's mainstay, our Industrial Automation Division handling Omron, Mitsubishi, Inno, Panasonic, Autonics, Delta, Honeywell, Novotechnik, Oriental Motor and Inno LED.
Today, Intech consists of over 200 employees in sales, manufacturing, technical support and service activities. The headquarters located in Guindy, Chennai manages and supports all our operations.
Company Profile
In this era of globalization and vast technology change, Intech Systems is reaffirming its dedication to offering added value to customers by offering innovative products and services. We stand by our commitment of 'Appropriate Automation' by providing our customers the Right products / Solutions for the Application at the Right price.
| # | Title | Company Details |
| --- | --- | --- |
| 1 | Company Name | Intech Systems Chennai Pvt Ltd |
| 2 | Address | S-2, Guindy Industrial Estate |
| 3 | Area | Guindy |
| 4 | Phone No. | 044 43538888 |
| 5 | City | Chennai |
| 6 | Board Mobile No. | 9943538888 |
| 7 | Pin Code | 600032 |
| 8 | Email Id | info@intechchennai.com |
| 9 | Website | www.intechchennai.com |
| 10 | CIN No. | U72200TN2003PTC050450 |
| 11 | PAN No. | AABCI0806J |
| 12 | GST No. | 33AABCI0806J1ZZ |
| 13 | ESI Registration No | 51001236400000699 |
| 14 | PF Registration No. | TN / TAM / 60526 |
| # | Title | Bank Details |
| --- | --- | --- |
| 1 | Bank Name | ICICI BANK LTD |
| 2 | Branch Name | Guindy Branch, Chennai - 600032 |
| 3 | Branch Code | 4102 |
| 4 | Account Type | Cash Credit (CC) |
| 5 | Account No | 410251000002 |
| 6 | RTGS | NEFT | IFSC | ICIC0004102 |
| 7 | MICR No | 600229135 |
| 8 | SWIFT | IBAN Code | ICICINBBCTS |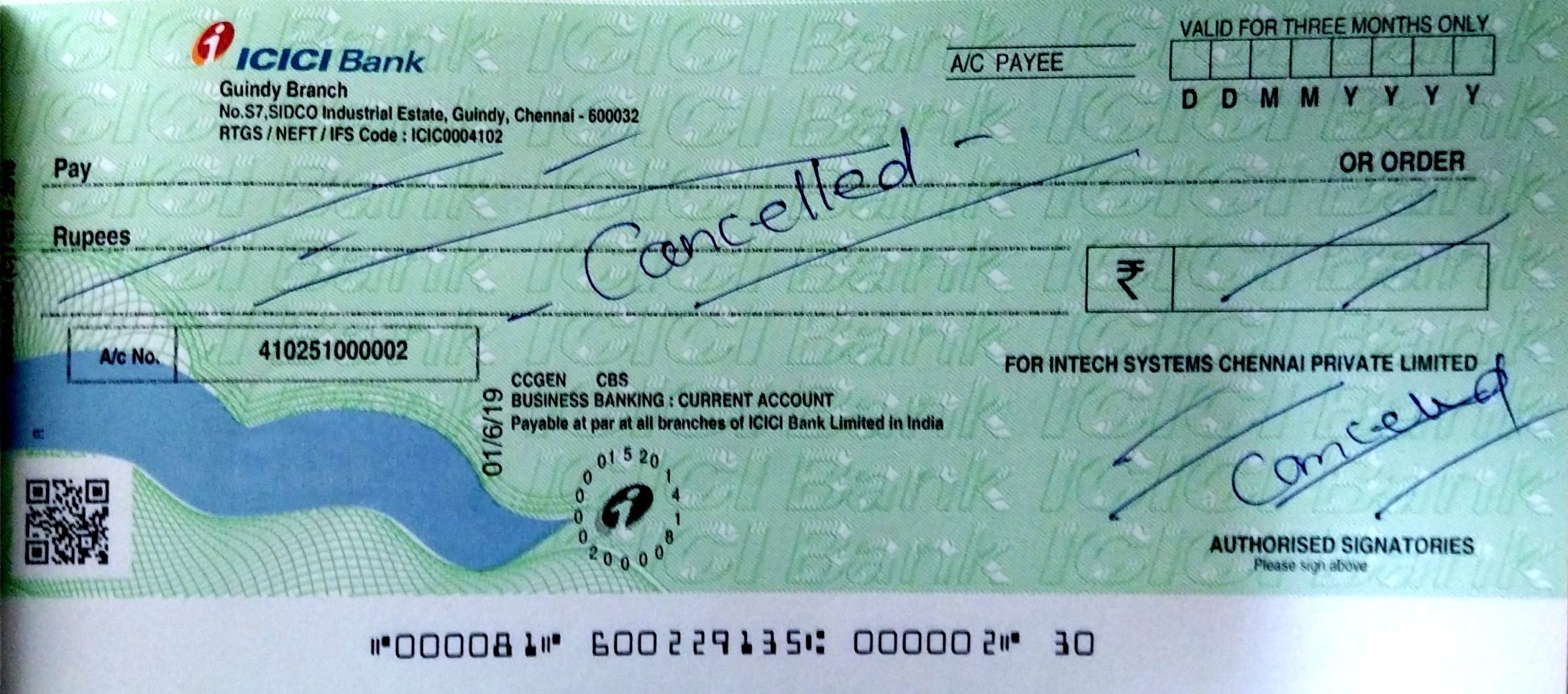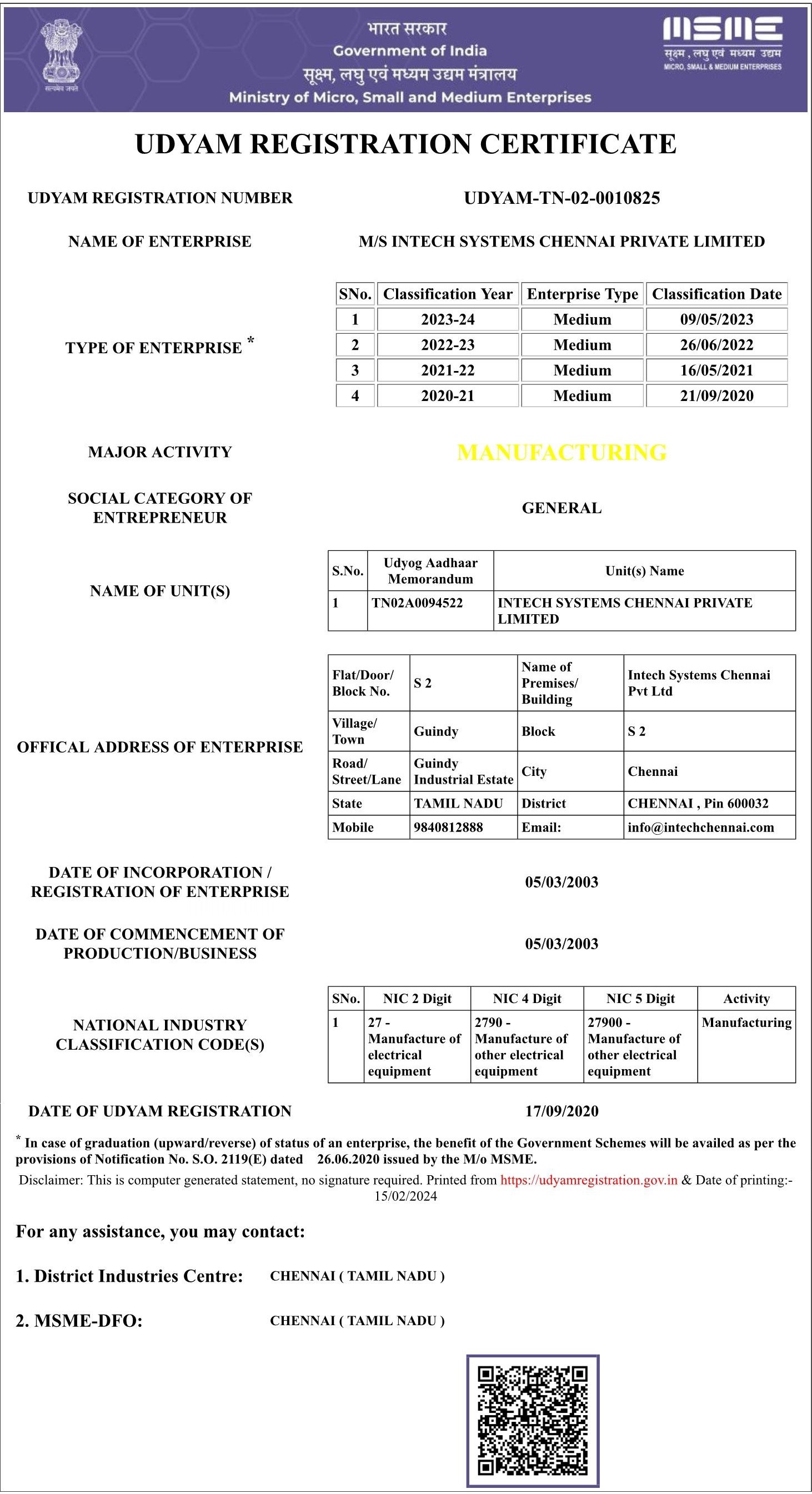 Quality Policy
We at Intech are committed to on schedule error free delivery of automation products, that meet more than customers expectations at all times.
Intech believes in continual improvement of quality management for an exciting future to all customers, associates and its employees.
We believe in our philosophy of quality first in all aspects of our business. We are in this game for the long run and it does not pay to short change your customers for a quick buck. All activities at Intech are clear, transparent and is driven by SOPs and fixed procedures thus minimizing errors due to human intervention.
Our commitment to quality and process is reflected in the fact that we were one of the first companies in the industry to get an ISO certification, way back in 2003.
Intech is now a ISO 9001:2015 certified company for both distribution and project business divisions.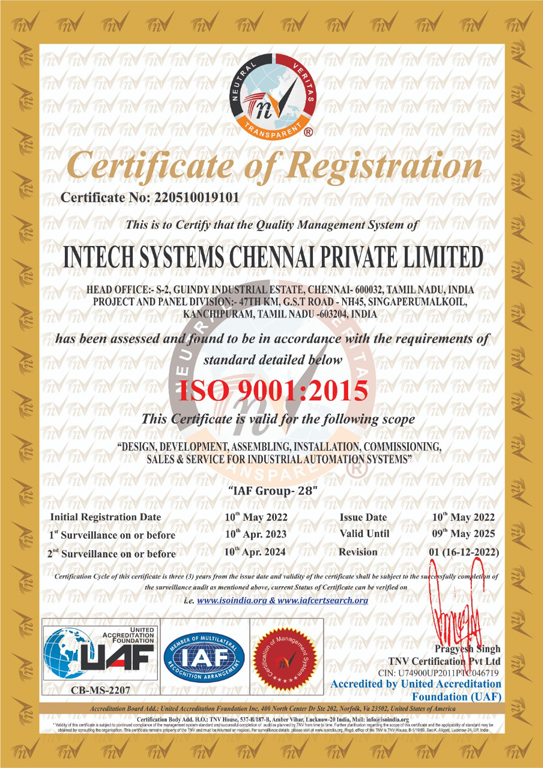 With all your blessing we have completed 35 successfully years in the Indian automation industry. Intech has grown from a 1 man to a 200 people company, this would not have been possible without the support of 'OUR CUSTOMERS'
CUSTOMER DELIGHT – is what we at Intech strive for; it is our wish that every customer that we serve is not just satisfied but delighted with their experience with Intech. We strive to achieve this by offering the best possible product at competitive prices, exclusive customer based buffer stocking, on time delivery and timely service support.
OUR CORE AREAS OF FOCUS
a. Reduction in Total Cost of Ownership by improvements in efficiency through machine automation
b. Moving industries to the connected era with IOT, and customer delight through tracking and traceability
c. Making industries safer for both man and machine; risk elimination and process optimization for a safer work environment
"The time is now – the time to talk, not about the cost of automation or product; but rather about the Total Cost of Ownership and Return on Investment.
We are sure that you are going to be amazed by the returns in terms of quality as well as efficiency.
LET US MOVE FORWARD TO THE NEXT ERA IN AUTOMATION."
Chairman's Message
Intech as a leading player in the field of Industrial Automation with over more than 3+ decades of experience has developed a broad spectrum of "Sensing, Control & Automation" solutions tailor made to suit and not just satisfy but exceed customer expectations.
Intech offers end to end solutions and concept to commissioning project support envisaged to cut costs and improve productivity.
With our wide range of products and experienced team of sales, application and programming engineers you are guaranteed to get the best possible solution for your automation problems at the most competitive price.
It is our endeavor to serve you with the best of our abilities; should you have any grievances/ issues with us kindly call or write to me at 'ceo@intech.net.in'. I assure you; you will enjoy doing business with Intech.
Have a great time ahead!
Regards
Duraisamy Palanisamy